Today is the last day to enter my Greek Yogurt giveaway!
Today is also one of my favorite readers birthday! Happy Birthday Jenna! I'll be shoving cake in my face in your honor today! (: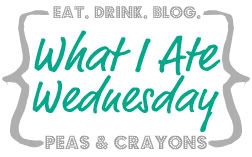 Thanks to Jenn for the link-up.
Breakfast: Pumpkin Quinoa Breakfast Parfait. Since spring is almost here, I decided to kick my days off this week with fall. I meal prepped these by putting them in cute mason jars. What better way to start the day? These are pretty good. I should've used a different Greek yogurt. I'm not a fan of the vanilla but I figured it was the best one that went with pumpkin.
Snack: Chocolate Protein Balls. I have been loving these little balls of protein lately (as you know if you follow my WIAW posts). They fill me up usually past lunch time so I take my lunch break, eat a Chobani and then eat more at a later time.
 
Lunch: Leftovers. My freezer is getting packed again so I figured I'd take care of that and eat some leftovers for lunch. I've been eating them with some Greek Yogurt on the side (that is banana).

Dinner: Funfetti Pancakes. Who says you can't have sprinkles for dinner? When I saw this recipe on instagram, I just knew I had to eat it all up! I put some greek yogurt in the middle and then some maple syrup on top! YUM!
 
Dessert: Ben and Jerry's Karamel Sutra Core. Of course I had to see what all the fuss was about, now I know! (:
Now its your turn: Have you tried a Ben and Jerry's Core dessert yet? Do you love funfetti cake?
{ 14 comments }