Just two more WIAW posts until I say I DO! Ahhhhhhh! It is getting real folks, real!
Eric and I even went and got our marriage license the other day!
Oh wait, that's right… back to the food!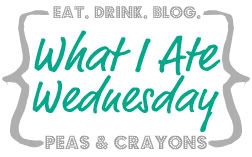 Breakfast: Strawberry, Banana and Peanut Butter Baked Oatmeal. I had this same thing last week but I changed the recipe up this week a little! I loved this meal so much I HAD to make it again! It is those peanut butter chips, I tell ya!

Snack: Strawberries. I have some left over strawberries again so I cut them up to snack on and added some splenda.
Snack: Greek Yogurt.
 
Dinner: Broccoli Slaw with Peanut Sauce. Lindsay from The Lean Green Bean (who is now pregnant, yay! Check out her adorable CrossFit inspired announcement!) posted this recipe last week. I instantly pinned it and wrote down the ingredients to make this week! I also ate a microwave grilled cheese on the side.
Now its your turn: Do you have a meal that you can make every week? How many days a week do you eat Greek Yogurt?
{ 5 comments }