I'm not going to lie, I haven't been sticking to my macros much this week. With my CrossFit Competition on Sunday, I pretty much ate what I wanted (Hello Tropical Smoothie) and then I didn't have time to meal prep on Sunday so on Monday I ate whatever I could.
I however, got it together by yesterday and have been eating better since! Let's talk about it!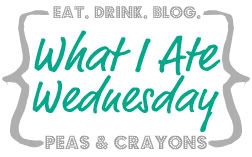 Breakfast
Banana Chocolate Protein Smoothie
All Pro Science Banana Whey (1 Scoop), Almond Milk (1 1/2 Cups) and Designer Whey Sustainable Energy Chocolate Protein Powder (1 Scoop)
Fat 8.8, Carbs 12.5, Fiber 6.5, Sugar 4, Protein 40.5
Another week, another smoothie. YUMMY!
Snack
 
Plain Greek Yogurt + 1/2 Scoop of Designer Whey Sustainable Energy Chocolate Protein Powder
Fat 0, Carbs 9.5, Fiber .5, Sugar 5, Protein 27
This isn't as bad as I thought it would be. I mean its no blueberry/strawberry and banana but it will do. PS: Did you see the new Chobani flavors yet? I did try one of the oat ones. I just had to!
Lunch
 
Baked Chicken Nuggets + Paleo Baked Avocado Fries
Fat 17.6, Carbs 30.7, Fiber 6.9, Sugar .6, Protein 28.1
OMG! This meal is DELICIOUS! I could eat this every day (just like last weeks pizza quesadilla).
Snack
 
thinkThin
OMG have you guys tried these? They have 0 grams of sugar and are SO GOOD! I'm not sure how they do it but I could eat five a day!
Dinner

Spaghetti Squash + 1 Chicken Apple Sausage
Fat 9, Carbs 25, Fiber 3, Sugar 8.6, Protein 14
I was going to make a pasta type dish but forgot what all I was going to add in it haha so it became spaghetti squash and chicken sausage. It still turned out pretty good!
Now tell me
What are you eating this week? When you don't meal prep do you usually go down hill?
{ 9 comments }