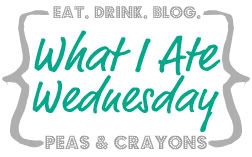 It is Wednesday which means its your turn too look into the daily life of my eats! Woot Woot! Thanks to Jenn from Peas and Crayons for the link up!
Lets dig in shall we.


Breakfast:
I have been trying to get some extra protein into my meals during the week after CrossFit. This week I decided on eggs, mushrooms and sun dried tomatoes. Very yummy combination!

Snack #1: I got some Kind Bars in the mail recently. I figured they would be a great snack for me at work. This one was cranberry almond and was really delicious! I was full a lot longer than I usually am when I eat my 10AM snacks.

Lunch: Recycled photo! I have been eating sweet potatoes everyday for lunch with some Justins Almond Butter. I like the light lunch. It is also very tasty and easy to make. You just stick it in the microwave for 8 minutes and DONE!

Snack #2: Chobani Bites! I ate the coffee and dark chocolate bite around 3PM when I was really feeling blah and it gave me a little pep to kick start an important part of the day.

Dinner: My mom made some yummy chicken corn soup on Friday. It really isn't soup like though but definitely good for me! I paired it up with a microwave grilled cheese! Super yummy!

Dessert: Oatmeal Raisin Cookie! My mom has been getting cookies at the grocery store every week now and I just can't resist! Oatmeal Raisin isn't my favorite cookie but it does the trick!
Questions: Did you make anything really good this week? Have you ever had chicken corn soup? Is it soupy or like mine?