Don't forget tonight at 8pm is the Move Nourish Believe Twitter Party where Lorna Jane will announce the winner of the Challenge I have been participating in for the past 3 weeks! I'm super excited to see who won the $1000 shopping spree!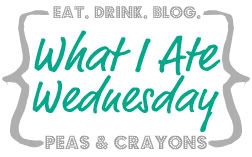 A special thanks to
Jenn
for the link-up!
 
6:30 AM– I've been in a Greek Yogurt parfait type of mood lately. Banana, blueberries, strawberry Chobani Greek yogurt and some almond butter on top. YUM!
 
8 AM– Blueberry Coffee. I've been waiting until I get to work to make myself some coffee instead of drinking it when I wake up. This has helped with my extra snacking every day.
 
10 AM– KIND Bar. I know I've already told you guys but these things are so good! This is the dark chocolate chunk one. DELICIOUS!
 
12:30 PM- Lunch. A Sunshine Burger on an English muffin with a side of banana and blueberries. I have been eating the Loco Chipotle kind this week. I can't believe how much I like these burgers.
 
6 PM– Dinner- Buffalo Cauliflower, Green Peppers and Chicken with some Sour Cream on top. I put all of those ingredients (minus the sour cream) into a crock pot and cooked it on high for 4 hours. It turned out extra spicy. Good thing I had some left over sour cream from last week to put on top.
A veryyyy easy meal prep week for me. Seriously it was kind of non-existent but I still don't have to cook at all during the week! HOLLA!
Now its your turn: What are you eating this week? What is your favorite fruit to put in a smoothie bowl?
The winner of the $50 Home Depot gift card is Meredith N. Congratulations! Email me at dbrow814 at gmail dot com.