This week has been BUSY! CrossFit workouts have been slim, good thing the weather is in the upper 60's and I have another gym membership when I can't make it to the timed CrossFit classes!
You are here for the food though aren't you? I mean it is Wednesday! Okay, fine!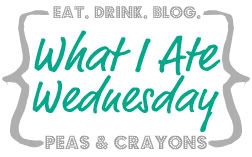 Thank you Jenn for the linkup!
Breakfast: Banana, Strawberry and Peanut Butter Chip Baked Oatmeal. I'm hooked. This is the third week in a row I've been eating it! I promise in two weeks I won't be eating it (honeymoon, hehe).
Snack: Strawberries… again… a repeat. Strawberries are just so cheap right now I have to gobble them up when I can.
Lunch: Salad. I'm always so strong Monday-Wednesday with eating salads and then Thursday-Sunday it's all down hill. Trying to stay strong… trying! This salad includes spinach, carrots, chickpeas, goat cheese, chicken and avocado (<—see they got me hooked at my bachelorette party).
Snack: Greek Yogurt
Dinner: An egg sandwich with goat cheese and an avocado on a flatz sandwich thin. This was probably the best sandwich I've had since that tip sandwich Bobbie Jo made Eric and I. Goat cheese and avocado is just an awesome combination if you ask me!
Now its your turn: What are you eating this week? Are you usually good at eating healthy at the beginning of the week?