Thank goodness it is already Wednesday. To say I'm a little excited for this weekend, would be an understatement! It's my bachelorette party weekend! That's when you know the big day is getting close!
Now for some food! Thanks to
Jenn
for the linkup!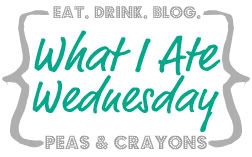 Waking up: Cup of coffee. I decided I was going to try and switch things up a little this week. When I wake up I'm going to have coffee and when I get to work I'm going to heat up my breakfast. I hope this cuts back a little bit on my snack eating.
 
Breakfast: Strawberry Peanut Butter Banana Baked Oatmeal. I used peanut butter chips to make this. That was the best idea ever! You get more peanut butterness in each bite when using the chips more than using regular peanut butter! It doesn't look like the most appetizing breakfast but it really is delicious!
Snack: Strawberries. The grocery store was only selling a huge container of strawberries so I had extra (leftover from the breakfast). Not complaining here. I put some splenda on top and yummy!
 
Lunch: Salad. I put some chicken, carrots, chickpeas, mushrooms, ham and goat cheese on top. Like I said yesterday, swim suit weather will be here for me in less than a month (honeymoon to Jamaica). Which means you might be seeing more salad pictures in the next month. Until I get tired of eating them and just go all out eating a week before the wedding and I won't be able to fit into my wedding dress (that defeats the whole purpose).
Snack: Cliff Bar. Gosh I love these things. I could eat them as meals all day/every day! White chip macadamia, Peanut Butter, Brownie… get in my belly.
 
Dinner: Apple Chicken Sausage with veggies. I love chicken sausage especially when I cook it with some green peppers, onions and zucchini. So good! I could eat this every day, forever (with some peanut butter on the side, of course).
Now its your turn: Do you use peanut butter chips over regular peanut butter? What are you eating this week?