WooHoo its another What I Ate Wednesday!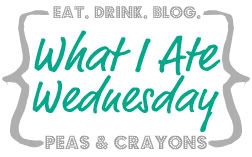 Head over to Peas and Crayons to find out more if you are interested in participating!
I'm going to recap my eats from yesterday.
8AM- 1/3 cup of Oatmeal, with Strawberry Chobani Yogurt, blueberries, and bananas.


10 AM- Nature Valley Peanut Bar


Noon- Salad, 0% Plain Chobani Yogurt, Leftover Crab mix from Quesadillas dinner earlier this week.


6 PM Chicken BBQ Sandwich on a Sandwich Thin, Side Salad


7 PM Ice Cream with Chocolate Sauce and Whipped Cream


It was a good day for some eating. It is really nice coming home after work and making dinner and eating it. I am a fan! (: