Another round of What I Ate Wednesday is here!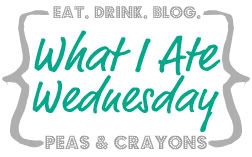 I'm recapping yesterdays eats.
7:30 AM
My breakfast started as it always does so I didn't even bother taking a picture.
Oatmeal, Choabni (yesterday's pick was mango), half of a banana, and some granola.
10:30 AM: After my run I was hungry. It was hot outside so I ate some more Chobani. This time Pineapple. With the other half of the banana and the rest of the bag of my granola. I paired it up with some coffee since I didn't have it with my breakfast.

1:30 PM
: My lunch was some leftovers from
Monday's
lunch out. I had a salad and topped it off with some crab cake, french fries, and plain Chobani. This is definitely my favorite salad ever. I love Pittsburgh Salads with steak and french fries on it and one time I was out to eat and found one with crab cake and french fries. I'm glad I remembered this so I could make it.
6:30 PM: After boot camp I wanted one thing… a slushy. Oh my goodness was it ever hot outside yesterday so after boot camp I wanted something cold. I also grabbed a Clif bar when I was out. I think these are my favorite bars that I have tried yet. The white macadamia nut ones taste just like the cookies at subway! DELICIOUS!

8:00 PM: Since I didn't really eat a "dinner" I had a thing of Apple Cinnamon Chobani before going to meet up with my family at Chuck E Cheese.


I have so much Chobani I can eat it with every meal! (:
Then at Chuck E Cheese I caved and had a slice of pizza.
My eats were pretty random but sometimes that happens when you have a busy night and lots of Chobani in the fridge! (: